Skirts have been around for ages since they were invented. From the long maxi skirt and Pleated midi skirt to the revolutionary miniskirt, you can get almost every type of skirt today. This outfit brings out a chic and slightly formal look, perfect for every occasion.
You can wear it to work on a date night, on the weekend and more. Once you have found your ideal skirt type, you can style it in various ways to make it more fashionable. This includes accessorizing, switching different tops and shoes among others. You can visit sites like Stein Mart and check out what they have to offer when it comes to skirt outfits.
With that said, here are a few trendy outfits available to choose from
The midi is a trending style that goes well with almost every body type. It can be won at the bar or on a weekend. Similarly, this outfit highlights the mid part of the leg, giving you a more feminine and stylish look. The pleated midi is the most popular selection and you can choose between bold patterns or the metallic hue.
The denim style has made a speedy comeback in today's fashion world. This style is surprisingly glamorous and with the right shoes and top, you can rock it almost everywhere.
Likewise, you can wear it as a midi, A-line, or mini depending on your personal style. All you need is to pair your selected design with a fashionable blazer or bomber jacket, and you are good to go.
This outfit is a perfect choice when you need to feel sexy, cute, and stylish. Miniskirts are also versatile and can be won with multiple attires and accessories. You can wear them on a weekend, day or a night out. For a classier look, you can pair your miniskirt with a colorful tee, a pair of heels, and a stylish blazer.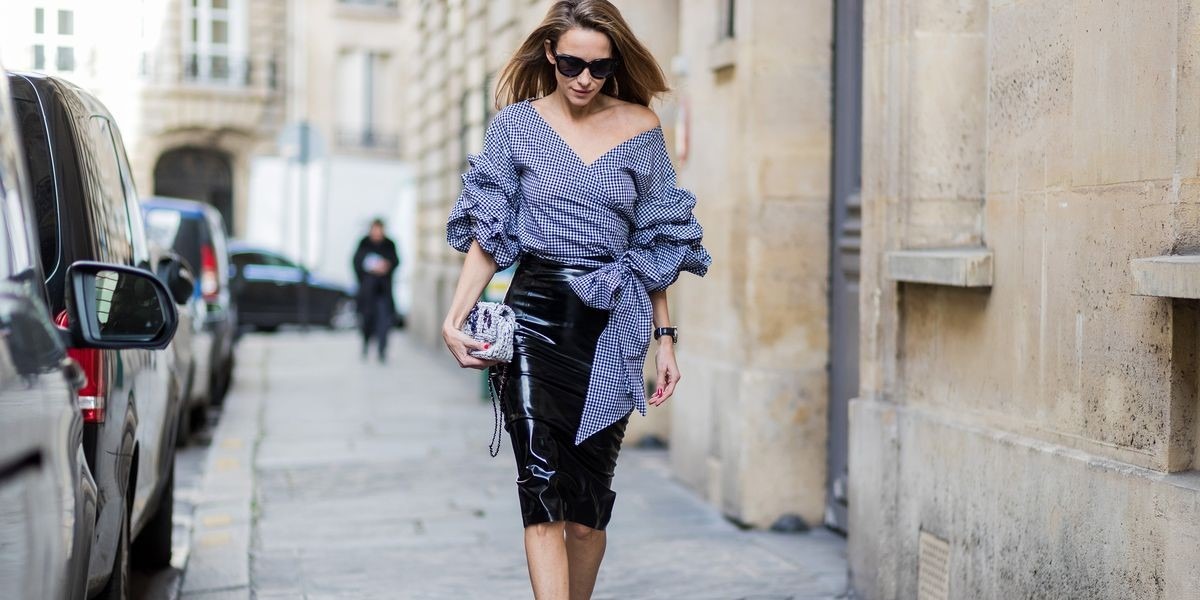 Maxis are very comfortable and ideal for women of all ages. While initially they were considered laid-back and outdated, with the right accessories you can easily create a killer look. To make a statement look, select your favorite style and color then pair it with a long coat or a knitted sweater. You can also include a pair of heels or flat string sandals.
Leather skirts are a must-have! This modern-day outfit blends well with most garments and its tough fabric can withstand all weather conditions. Plus, you can wear them to a gathering or in the streets and still look glammed up. They also come in different sizes, from long to miniskirts, and whatever size you choose you're sure of perfection.
This outfit makes perfect office wear. Its bold and formal appearance works perfectly in a structured or business settings.
You can also wear it to an evening occasion or a casual hangout. Pencil skirts are stretchy with a tight fit which highlights your feminine figure.
To make your pencil skirt even more stylish, partner it with a nice top, a blazer, and some matching heels. See this link to read more about this skirt design https://www.byrdie.com/how-to-wear-a-pencil-skirt-1265519
The fact that sequin skirts are shiny and glamorous makes them so noticeable. You can wear them to a party, a date, or a cocktail function. If you are planning on wearing it in the streets you could consider pairing it with a casual top or sweater to make it less intense. Their glitzy appearance will have everyone turning heads to look at you.
If you're looking for the ideal attire to wear to the prom, wedding, or festival, then the tulle may be the right pick. This feminine design is an excellent addition for formal occasions. Nevertheless, it can also make beautiful streetwear when paired with the right attire. For instance, you can pair your tulle skirt with cropped hoodie or top and kitten heels to make it less formal.
Skaters are fun and ideal for several occasions. If you wear them to a formal setting, pair them with a blouse and low heels. You can also pair them with a tee and ankle boots for streetwear. Click here to see a few designs you can try out.
Conclusion
There are many ways you can style your skirt to suit several occasions. Most people prefer pairing it with a matching top, sweater, t-shirt, cropped hoodie blazer, and nice heels or flat shoes. Nevertheless, whatever style you choose, make sure it matches your body. Plus, it is also good to consider the occasion before settling for a certain style.