Why are Hyundai cars popular in India is a question that every new automaker in the country wants an answer to, as it would help them to find a successful path like the South Korean giant did. While the simple answer to the question is due to the brands extensive features, stylish design, and good after sales service network in India, there is much more the Hyundai than that meets the eye.
As everyone knows, Hyundai arrived in India back in 1996.  At that time, five players Maruti, Hindustan, Premier, Tata, and Mahindra had a dominant presence in the Indian car market. To make a mark in the mind of the end consumer, the automaker got Shah Rukh Khan as its brand ambassador for the iconic Santro. Since then the company has enjoyed a comfortable place in the Indian auto market and cemented its place as the second largest passenger vehicle manufacturer with a total market share of 14.74 percent. In 2023, the brand will embark on an electrifying journey with the launch of its first pure EV. The launch of a new powertrain will also help the company expand its after-sales support, diversified portfolio and increase its dealership network. Let's understand the reasons behind Hyundai's popularity in India.
Superior customer service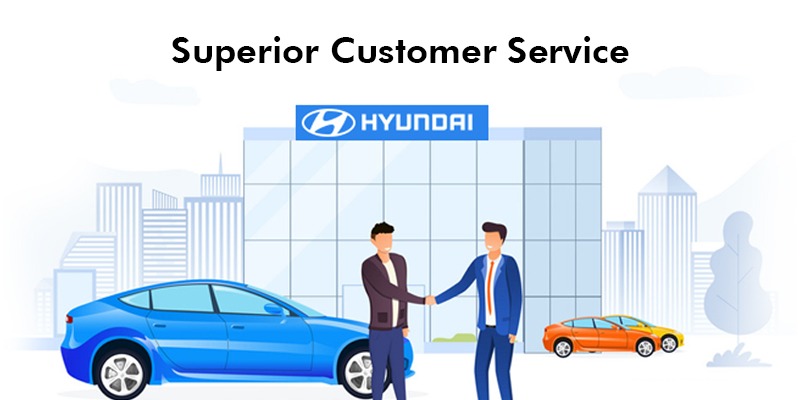 Over the years, the South Korean automobile giant has managed to develop a strong customer service network and after-sales support system in India.  Car's buyers expect reliable after-sales support more than anything except fuel efficiency. Be it a new car or a pre-owned vehicle, Hyundai customer service is a smooth experience.
Portfolio
As of 2023, the company's product portfolio consists of 11 models currently on sale in the country. These include 3 hatchbacks, 2 sedans, and 5 SUVs. Also, the manufacturer offers an EV offering in the form of Kona Electric. With a varied portfolio, Hyundai has been successful in matching Indian buyers' needs and expectations.
Stylish Design
Hyundai's emphasis on new design themes has endeared it to new-age Indian buyers. The revolutionary Fluidic Concept altered the Indian buyer's perspective of styling and design.  In July 2022, Hyundai Motor India established an in-house design studio at its corporate headquarters in Gurugram, India. Hyundai's global vehicle design is shaped by the design centre in South Korea. But the local design center has an influence too. For example, the third-generation Hyundai Santro launched in India had an elephant-inspired center console. The design theme was an inspiration from Lord Ganesha.
Reliable Engines
Worldwide, Hyundai engines are known for resilience, reliability, and efficiency. Be it the 1.2-litre petrol or 1.5-litre diesel engines or the newer turbo petrol powertrains, Hyundai is ahead of time. Powerful engines and crisp manual and automatic options make the Hyundai cars an attractive proposition. Also, Hyundai CNG cars are widely-known for their fuel efficiency and smooth driving experience. In India, most cars require modification and alterations for their CNG fuel option, Hyundai sells factory-fitted CNG cars. With such a varied line-up of petrol, diesel, CNG, and electric vehicles, Hyundai car's popularity is easier to understand.
Resale Value
India's pre-owned automobile market always has a demand for second-hand Hyundai cars. Buying a pre-owned Hyundai automobile means saving money and avoiding the depreciation factor as well. These cars generally have a higher resale value than other manufacturers. If you are looking to buy a pre-owned car, Hyundai would be a good choice for you.