It's not just about your clothing and shoes when it comes to looking trendy. You could have the most sophisticated clothing, even down to the shoes. Still, it won't matter if you don't accessorize it with the appropriate jewelry.
If done correctly, antique jewelry may enhance your appearance. Simply understanding how to arrange vintage jewelry may improve your formal attire, add refinement to evening clothes, and enhance your whole appearance.
Wearing antique jewelry may give you a sense of empowerment. You'll discover inspirations, style rules, and suggestions for styling and combining vintage jewelry for a classy appearance below. !" Check out this link https://www.wikihow.com/Shop-for-Vintage-Jewelry.
Bracelets
Wearing several bracelets is nearly always a good idea, as long as you stack them in an odd number. Whether you're new to wearing antique bracelets, begin with three pieces that are suitable for you. Your clothing has an influence on what jewelry you should or should not wear, as you'll discover later in this article. When it comes to selecting these accessories, keep your sleeves in mind. Longer sleeves need the avoidance of bracelets or if required, the selection of thinner items to wear beneath your sleeve.
Rings
Bear symbolism in mind whenever wearing a ring. Wedding, as well as engagement rings, should be worn on the left ring finger. However, other cultures prefer to wear marriage bands on the right index finger. Place them on your middle finger, thumb, or left index finger for antique rings with no marital link. The index finger has no symbolic significance; however, it can allow you to show off the ring better.
Necklaces
Picking a necklace is influenced by the neckline of your clothing. Longer necklaces may be worn with deep necklines, while shorter necklaces are required with sweetheart necklines. If you're not sure what kind of antique necklace to use, a lariat — or knotted — necklace with tiny pendants will look great on any neckline.
Earrings
The length, color, and form of your earrings all impact whether or not they go with a certain outfit. If you already have shorter hair or your hair is pulled back, you can wear longer and bigger earrings. If you pick statement antique earrings for just an evening, avoid additional statement items, as per luxury jewelry etiquette. Based on the event and your clothing, you may not want to wear any jewelry whatsoever, which will draw attention to the spectacular earrings.
Putting them together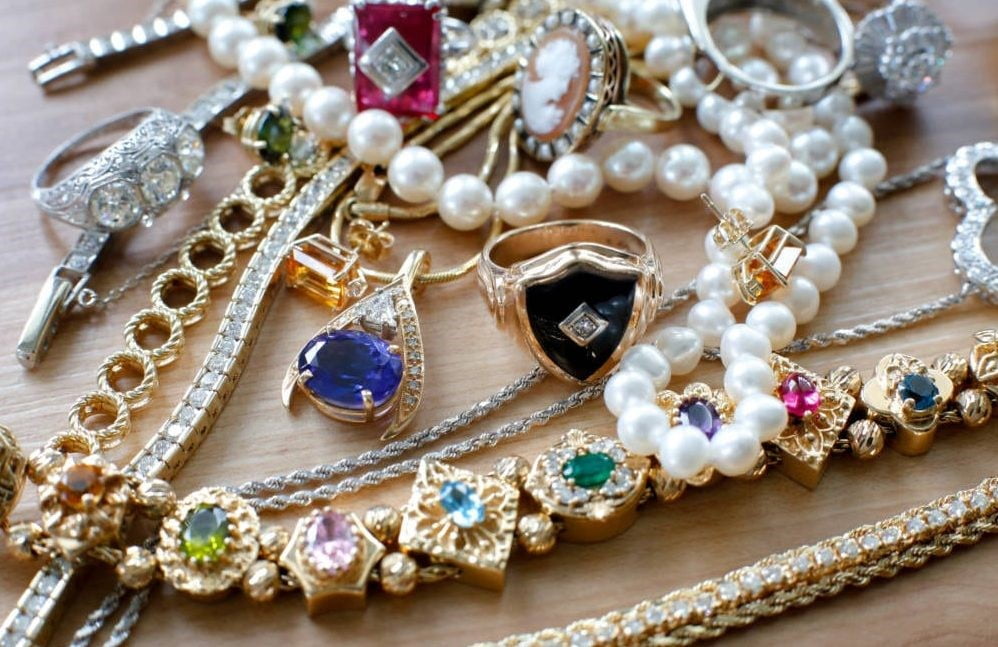 Now that you've mastered the art of wearing separate pieces, it's time to master the art of combining antique jewelry. Here's what you need to know:
Combine metals
In the past, good jewelry etiquette dictated that silver and gold should never be mixed. However, the regulations have lately been modified. You may now blend gold, silver, as well as other metals to create fresh and distinctive jewelry designs. Wear multiple of your bracelets at once or numerous smaller rings that you've never combined before due to their different materials.
When it comes to mixing expensive jewelry, however, be cautious. Whenever wearing different metals, be cautious because older expensive jewelry might be delicate. When pure gold comes into touch with harder metals or jewels, like diamonds, it can quickly scratch, therefore examining each item's material before mixing them. Read more on this page.
Stack a few necklaces together
We recognize that sometimes having more is preferable. You take pleasure in your elegant antique jewelry collection and despise leaving items behind when you're out. Layering several necklaces is a good idea. You may use a variety of pieces in a variety of colors, patterns, and lengths. Your appearance will be more appealing if you apply more layers.
The necklaces will also have an impact on the design of your clothing. Pendants and chains will give you a more modern style, while pearls will give you a classic elegance. To discover your refined style, play with various combinations from your collection, noting that basic pieces go together better than numerous statement necklaces. But, if you want to be a little more daring with your antique necklaces, try stacking striking pieces for a bold, opulent look.
Experiment with different jewelry hues
Using various accessories provides an eye-catching style that demonstrates how attentively you chose your outfit for the evening. As previously said, mix metals and integrate pieces with a range of gemstones. You may take a look from subtle to bold by changing the color of your jewels. Combine hues from the same family for a subtle look, such as oranges and red or greens and blues.
Pops of opposing color gemstones dramatically affect your vintage items if you want to draw attention to them. When paired together, red rubies, as well as green emeralds, create striking contrast in hue.
Different textures
You may create interesting styles by combining jewelry with different forms and textures, like with color. Use varying widths and styles of chains when assembling bracelets or necklaces for additional texture. To complement those chain bracelets and necklaces, use earrings studded with jewels to provide variation to your overall appearance. The more accessories you have, the more unique your style will look.
Mixing large rings is not recommended
It is not appropriate for a statement piece to compete with some other statements. You don't need to utilize more than one vintage ring at a time because they're such eye-catching items. Even if the vintage rings are costly, layering rings with huge and numerous jewels might make your ensemble appear cheesy. When in doubt, avoid wearing rings and instead go for several necklaces or bracelets.
Allow your creativity and imagination to go wild
Don't restrict yourself to your jewelry's original functions and look. If you have a ring that you don't wear because of its weight or size, you may turn it into a pendant by putting it on a chain. You may wear a necklace as a bracelet or knot it to make it smaller. Dare to mix and match your jewelry to get the most out of all of your pieces and to show off your high-end choices.