The roof is an essential part of any building. Other features and properties even depend on it being in the right state. This is so that they are not exposed to harsh weather conditions amongst other things.
It is for this reason you should ensure it is always in the right shape. For more on the importance of this part of your residential or commercial building, you can visit: https://www.britannica.com/technology/roof
Considering the need for your roof to be the strong protection of your home, proper inspections, repairs, maintenance, and replacements should be handled by the right re roofing company. So, you should not carry out any of these operations by yourself.
This is because the outcome can be terrible given your lack of experience and expertise. In this article, we will explain possible outcomes if you opt to handle roof repairs yourself. The aim is to make you see why the service of a professional roofer is a better option regardless of how slight the repair might seem.
Problems that Can Arise After DIY Repairs on Your Roof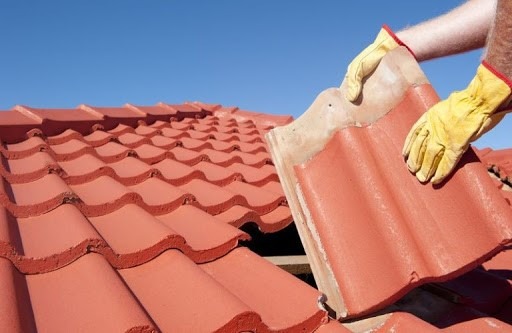 To justify the need to always call on a professional to handle repairs, maintenance, inspections, and replacements, below are some of the problems that can arise if you do it yourself:
Physical Injury and Accidents
Beyond the need to keep or put your roof in the right shape, your safety is very important. This is something you should have at the back of your mind and is why DIY repairs are a no-no.
This part of the building is in a very delicate area. Any wrong move can send anyone working on the roof falling. This is why professionals are trained to be very cautious while working. You do not have this training and should stay away for this reason.
Cover-Up Tactics that Backfires
Experience has shown how most people that carry out these DIY repairs do a wishy-washy job. For the most part, they just cover up the problem and this can lead to bigger problems in the long run.
For instance, such people with shingles roofs are fond of laying the new shingles on old ones. They think it is all about laying up something else to cover up the lapses of the old layer. Well, this is a bad way to deal with the situation.
Usually, this ends up further complicating things. This is because it reduces the lifespan of the new roofing material. Additionally, removing the damaged ones becomes more difficult. This could end up incurring more costs.
Inappropriate Use of Nails
One of the clear-cut differences between a roofing job handled by a good and bad roofer is the use of nails. Nails are very helpful in holding down certain features on the roof. However, it needs to be used appropriately. This is because the inappropriate use of nails can further complicate the problem. When used insufficiently, the ability to hold down the roofing materials is compromised.
On the other hand, using it excessively can cause leakage because of spots that are weakened. You should also know that there are certain spots on the roof where nails should not be used. Unfortunately, this is not something you are aware of and is why you should stay off the roof.
Legal Requirement
This part is a very important part of the building as explained earlier. This is why there are local codes binding on how this part of the building is handled. For instance, certain designs may not be permitted in your location.
Also, according to the local building code, it is expected that only a professional handles repairs, maintenance, inspections, and replacement involving the roof. The professional even has to be licensed to operate in the area.
For instance, a professional that handles roof repair services in Mckinney must be licensed by the pertinent body in the area. As a result, going DIY is a violation of the local building code.
This means you will be getting on the wrong side of the law. So, we strongly advise that you avoid handling your roofing projects yourself.
Violating the Warranty Agreement
Carrying out a roofing project is not a stroll in the park. It is something serious and expensive. Speaking of being costly, the roofing sheet is one of the most expensive things. As a result, you cannot afford to get something that will not stand the test of time.
This is why many manufacturers offer a warranty on their products if there is a fault of theirs noticed along the line. This is usually for some time. However, terms and conditions apply. One of such is that the roof should only be handled by professionals.
This means that you cannot lay claim to this agreement if you have carried out DIY repairs. So, it is in your best interest that your roof is left in the hands of professionals when the need arises.
Whether it's residential or commercial roofing, Legion Roofing & Construction has you covered with excellent workmanship.
Convenience Compromised
Repairing a roof is more than fixing leaks. There is also the place of ensuring the interior is well insulated and ventilated and the roof plays a huge part in making this happen.
The problem is that you can tamper with the roof's ability to play this essential role even if you succeed with the repairs. So, this part of your building is better left to the professionals.
Leaks from Improper Installations
The proper installation of almost every feature on the roof will help prevent leakage. However, some features are more important in this regard.
For instance, something known as flashing is very important. This is an installation strategically placed to ensure the joints between the roof and other features (like the chimney) do not end up leaking. To make sure of this, the flashing needs to be properly installed. This is something that you may not be able to handle. As a result, going the DIY route can complicate things.
Given all that has been pointed out and more, leaving your roofing projects in the hands of a professional is just the right thing. For more on this subject, you can read this.
Conclusion
The roof is a very important part of your building. It helps to protect your interior space from harsh elements and other things. Therefore, it needs to be handled by the right hands.
This is why we have pointed out why you should not carry out DIY repairs. We strongly advise that you make informed decisions by making the most of the information shared here.