A smartphone is starting to replace the use of computers overall. It can be a portable workstation, allowing you to complete activities while you are out and about. It is compact, lightweight, and easy to bring anywhere, making it a perfect device to improve productivity.
Many productivity applications available for Android may help you manage your schedule and work more efficiently. Here are the best apps you could get that to your daily productivity.
ProofHub
One of the major contributors to being not productive at work is being overwhelmed and unorganized. ProofHub is a project management, team collaboration, and communication tool that works whether you are at your desk or somewhere else.  This user-friendly tool is meant to make routine job tasks more manageable. ProofHub's mobile app has everything you need to boost productivity in your business. From interacting with your team or clients, giving every team member a specific job in the project, to measuring the amount of time a person spends on a certain activity.
Todoist
Source: todoist.com
Making sure you are jotting everything down in the right location is one of the most acceptable methods to get organized.  Todoist is a straightforward and configurable task organizer. It allows you to create lists using easy-to-use software that syncs across all your devices, including web, Windows, Android, Mac, and iPhone.
If you require a task organizer that works on your organization's Windows PC but wants to view it on your smartphone, Todoist is an excellent system. It offers feedback requests, collaboration, and more if you feel the need to share a task with your co-workers. It is free to use, with subscriptions available to add more capabilities for you and your team.
Toggl Track
Toggl Track is a tracking tool for PCs and mobile devices that makes keeping track of your time a breeze, and it is free!  With data synchronization across the two platforms, you may begin, end, and record times and activities on your smartphone or desktop. This enables you to log the hours that were spent on tasks or chores.
With the option to import or export the data recorded in either PDF or CSV formats, you may organize, bulk modifies, or tag items for simple reporting and editing. Although it is free, it also offers premium memberships with excellent features. Some of these features include time entry locking, alerts, billable time rounding rules, as well as team and project management tools.
Samsung Notes
It is simple to have a notebook and pen close while sitting behind a desk or table all day, but it can be tricky if you are on the go. If you are a proud owner of a Samsung smartphone and are finding a way to boost your productivity, then Samsung Notes app is the way to go. With the help of Samsung Notes, taking notes during the day is a lot more straightforward, where you can keep track of everything. You may also write, sketch, and underline in various styles and colors with the S Pen. Keep your notes with customizable categories and attach photographs and audio recordings.
Samsung Notes app also features a screen-off memo, where you can simply pick the S Pen and begin writing, even if your display is turned off.  You may save it to Samsung Notes or pin it to the 'Always on Display' feature after you are finished. Other than that, you can also link Samsung Notes to Microsoft OneNote for a smooth mobile-to-PC experience. It immediately transmits your notes to OneNote so that you can access them on your desktop later.
Dropbox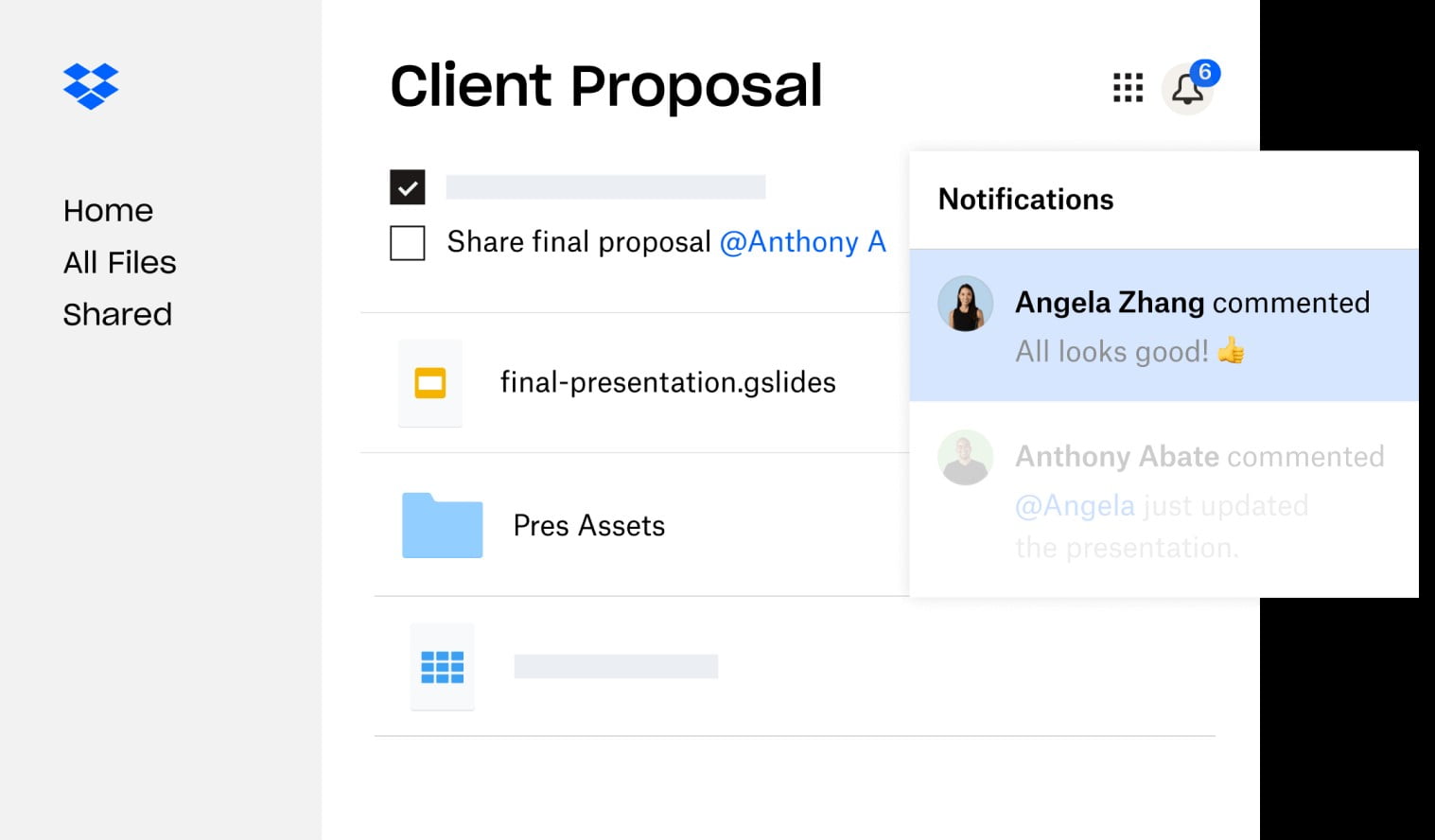 Source: dropbox.com
Having a trustworthy file synchronization programme on your phone or tablet is crucial. File synchronization and backup programmes like Dropbox allow you to access your most essential documents wherever you are. For example, if you have the application loaded and you need to present important papers in a hurry, you can access it in seconds.
You would not even need a connection to access your most essential papers using Dropbox, as you can store them offline. It also can back up videos and images from your smartphone. Dropbox can be considered as one of the greatest file synchronization services due to its speed, simplicity, and dependability.
To conclude
Consider what you could achieve if you completed every task and regained control. This is precisely when your smartphone comes in handy. You may increase your productivity by downloading the Android applications listed above. Utilize them as a checkpoint on your way to achieving your objective. Long-term productivity could only be achieved via practise and self-control. So, what do you have to lose? Make a plan for your tomorrow right now.